Artificial Horizon Necklace and Earring Set
Every Pilot Flying In Style.
She will be soaring in style wearing the handmade jewelry set.
The beautiful Sterling Silver wrapped around her neck, will see her glide in the sky with elegance.
The 14k Gold necklace & leverback earrings are sure to distract anyone looking over.
The perfect gift to compliment any lady the Artificial Horizon set will give her an immediate fashion advantage.
Categories: Air force basic training graduation gift ideas, Air force Gifts, Air Force Girlfriend, Air force officer commissioning gifts, Air force Retirement Gifts, Anniversary gifts, Bags & accessories, Birthday Gifts, Fashion Jewelry, Fourth of July, Gifts For Her, Going Away Gifts, Graduation gifts, Memorial day, Military Girlfriend Gifts, Military Spouse Gifts, Military wedding, Patriotic Crafts Gifts, Retirement gifts, Thank You Gifts
Tags: air force, deployment, earring, graduation, her, holidays, PCS, promotion, retirement
Related products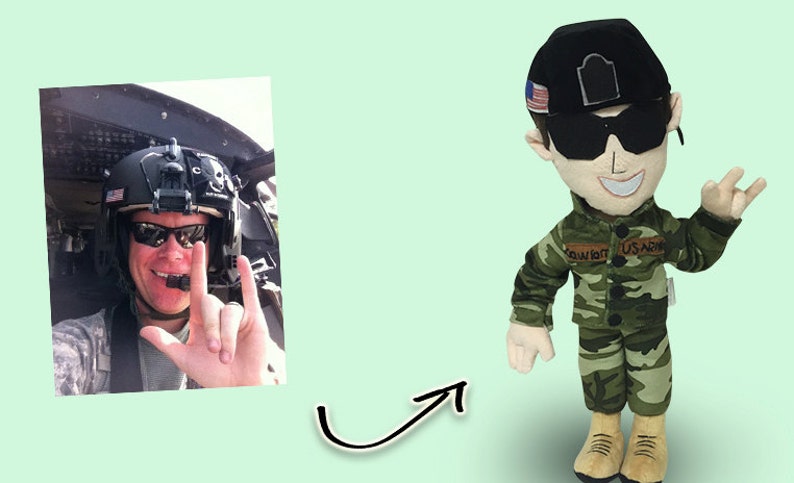 I can't think of a better way you could mess with your soldier, other than gifting him this 16" fully huggable custom plush doll. You only need to provide one picture, and the creative team at Budsies will do the rest. Your soldier will be blown out of his wits and love the thought you put into this (in a goofy kind of way). He/ She will crack up whenever they see this later on as a reminder of your awesomeness